Neil Eccles
Member
General Committee
GC Support Team
MOA Position

Website Editor
Boat name

CUTAWAY
Berth

Vannes
Boat type

Moody 42
Cruising area

West Coast of France and North Coast Of Spain
How to change your password or use the Forgotten Password utility
Forgotten Password utility
(see screens below - click on the thumbnail images to enlarge them.
You will not be logged in so the Info Exchange will have a log in button on the right

click that and you have the login screen appear at the top

Click the "forgotten your password" link without filling in anything else and you get this screen

You just enter your username or email and the screen will change to this

and it will send you an email with a link to click to do a password reset.
When you click the link another email with a new password is sent to you which you may use to log in.
You don't need to remember the password, just ensure your email address is up to date and you can always get a new password - easy isn't it!
To Change Your Password
You will be logged in already, so you need to go to your Name which is on the screen - if you hover over it you are presented with a menu list of options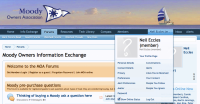 Select Password on the bottom left and you are presented with this screen





If your existing password is already filled in so much the better (it is hidden in stars). If not fill in your existing password, then put in your new passwords and press Save Changes

That is is you are all set!

Of course if you get this far and have forgotten your password after all - just log out at your name screen and use the forgotten password facility as above

What to do if you have changed your email address and not updated the Info Exchange.

You will need to email the Membership Registrar and explain. He/she can then enter your new email address into the Info Exchange and you will be able to use the forgotten password facility.

Remember, if you change your email address, please let the Membership Registrar know - it our only way of contacting you electronically. You also need to update your Info Exchange account just in case you ever forget your password.
Last edited: